I was visiting home so I decided to try to make some gluten free bread for my mom from whatever ingredients she happened to have lying around. I've never made gluten free bread before so I had no idea what to expect, but atleast my mom said that the bread was good.
For the recipe I modified my Sweet seed bread recipe. I obviously didn't use any malt and changed the flour. This time I also found only sunflower seeds from my parents cupboards but you can use both pumpkin seeds and sunflower seeds, along with some others aswell if you wish.
Gluten free bread:
- 3 dl water
- 25 g yeast
- 3/4 - 1 dl syrup
- 2 tsp salt
- 3 dl low protein gluten free flour (Finax lågprotein mjölmix)
- 3 dl buckwheat flour (tattarijauhoja)
- 1 dl coarse gluten free flour
- 2 tbsp olive oil
- 1/2 dl pumpkin seeds
- 1/2 dl sunflower seeds
Warm up the water to hand temperature and dilute in the yeast, salt and syrup. Add the flour and mix well. The dough will still be quite soft and sticky. Move the dough in an oiled bread pan. If you're worried you can't get the bread out of the pan, put a piece of oiled baking paper in the bottom. Gluten is what makes the fibers to stick together and the dough to be elastic so the gluten free dough is a little bit different to most normal breads.
Leave the bread in a warm place for half an hour. It might be that the bread won't rise much at this point, atleast mine didn't. It did rise when baking though, hence the cracks in the appearance of the bread. I don't know if it always does that or was it just me.
Brush on some syrup-water mixture on the surface and sprinkle on some seeds. Bake in 175 degrees celcius for 50 mins to an hour.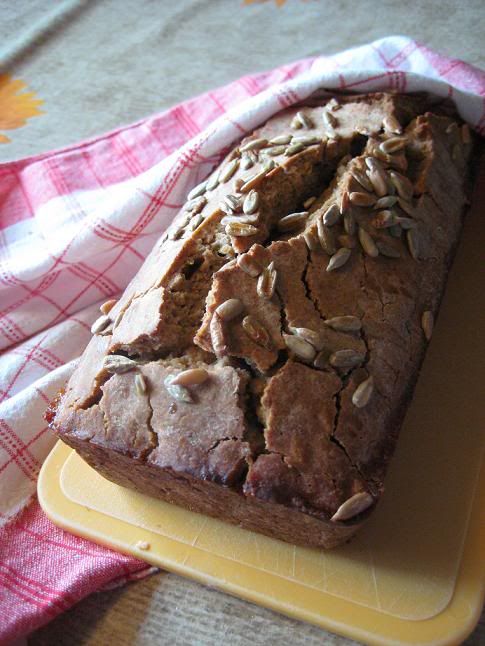 Gluteeniton leipä