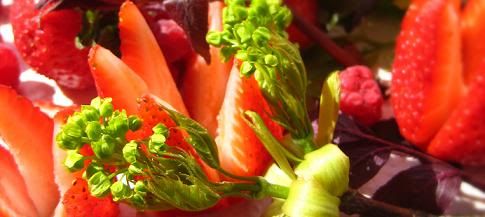 Hyvää äitienpäivää! Äidille tein tällä kertaa raikkaan gluteenittoman mansikkarahkakakun, jossa koristeena oli hieman myös vadelmia sekä puiden oksia tuomassa hieman vehreyttä kakkuun, nyt kun alkaa taas vihertää. Kakku ei ole perinteinen hyydykekakku, vaan oikeastaan rahkapintainen kakku, jonka sisältä paljastuukin normaali vaaleapohjainen täytekakku. Itse olen tehnyt tällaisia kakkuja useampia, mutta hetkeen en ollut yhtään tehnyt ja sen vuoksi on ohje nyt paikallaan.
¤¤¤¤¤
Happy Mother's Day! This time I made a fresh gluten free strawberry quark/curd cake which also has some raspberries and small tree branches to bring some green on the cake now that everything outside starts to be more green. The cake is not a traditional cheesecake like cake but instead a quark topped cake with a traditional white cake base inside. I have made many of these cakes but I haven't made one in a while, so it's time for a recipe.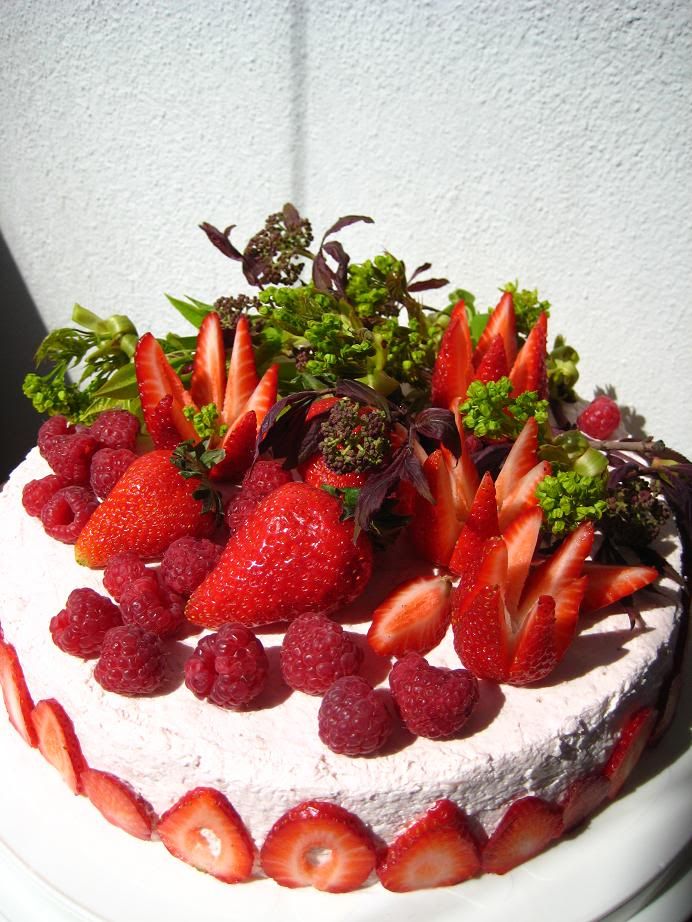 Mansikkarahkakakku
Tarvitset:
Perinteinen kakkupohja gluteenittomana:
- 3 kananmunaa
- yhtä paljon sokeria kuin munia
- 3/4 munien määrästä gluteenittomia jauhoja
- 1 tl leivinjauhetta
Vatkaa munat ja sokeri kuohkeaksi vaahdoksi. Sekoita joukkoon jauhot, joihin on sekoitettu leivinjauhe. Paista 175 asteisessa uunissa, kunnes kakkuun työnnetty tikku tulee ulos puhtaana. Jäähdytä.
- 2-3 dl survottua mansikkaa
- mehua kakun kostutukseen
Leikkaa kakkupohja kolmeen kerrokseen ja kokoa se tarjoilualustalle. Käytä kostutukseen mehua ja täytä välit mansikkasurvoksella. Aseta täytetyn kakun ympärille irtopohjavuoan rengas ja teippaa se varmuuden vuoksi paikoilleen. Tee mansikkarahkaseos ja lusikoi se irtopohjarenkaaseen sekä reunoille että päälle. Tasoita pinta kauniiksi ja anna hyytyä jääkaapissa useita tunteja. Koristele haluamallasi tavalla, esimerkiksi tuoreilla mansikoilla ja vadelmilla.
Mansikkarahka:
- 4 dl vispikermaa
- 500 g maitorahkaa
- 2-3 dl mansikkasurvosta
- 2-4 rkl sokeria
- 1 tl vaniljasokeria
- 1 liivatelehteä tai 5 tl liivatejauhetta
Vatkaa kerma ja sekoita siihen rahka, mansikat ja sokerit. Liota liivatelehdet kylmään veteen ja sulata pieneen määrään kuumaa nestettä tai sulata liivatejauhe pieneen määrään kuumaa nestettä. Sekoita liivate rahkan joukkoon.
¤¤¤¤¤
Strawberry quarck cake

You need:
Gluten free basic cake base:
- 3 eggs
- as much sugar as there is eggs
- amount of gluten free flour that equals 3/4 of the eggs
- 1 tsp baking powder
Whip the eggs and sugar together into thick foam. Mix in the flour combined with the baking powder. Bake in 175 degrees celcius oven until a skewer stuck into the cake comes out clean. Cool down.
- 2-3 dl pureed strawberry
- some juice to moisten the cake base
Cut the cake base into three layers and fill the cake with the strawberry puree moistening it with the juice. Set up a ring mold around the filled cake and tape it in place just in case. Make the quarck mixture and fill the edges and top of the ring mold with it. Even out the surface and put in the fridge to set for atleast a few hours. Decorate the way you want, for example with fresh strawberries and raspberries.
Strawberry quark:
- 4 dl whipping cream
- 500 g quarck
- 2-3 dl pureed strawberry
- 2-4 tbsp sugar
- 1 tsp vanilla sugar
- 5 gelatine leaves or 5 tsp gelatine powder
Whip the cream and mix the quark, strawberry and sugars in it. Put the gelatine leaves in some cold water and then melt them into small amount of hot liquid or melt the gelatine powder in some hot liquid. Mix in the gelatine.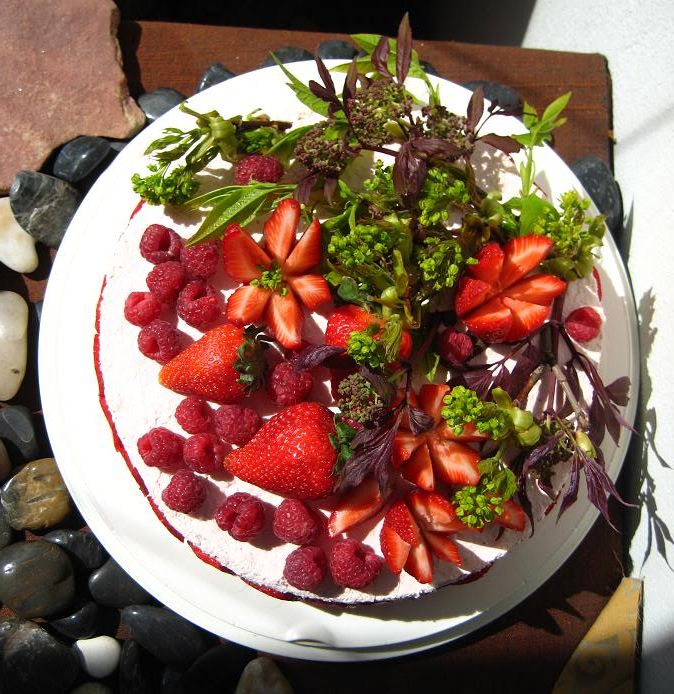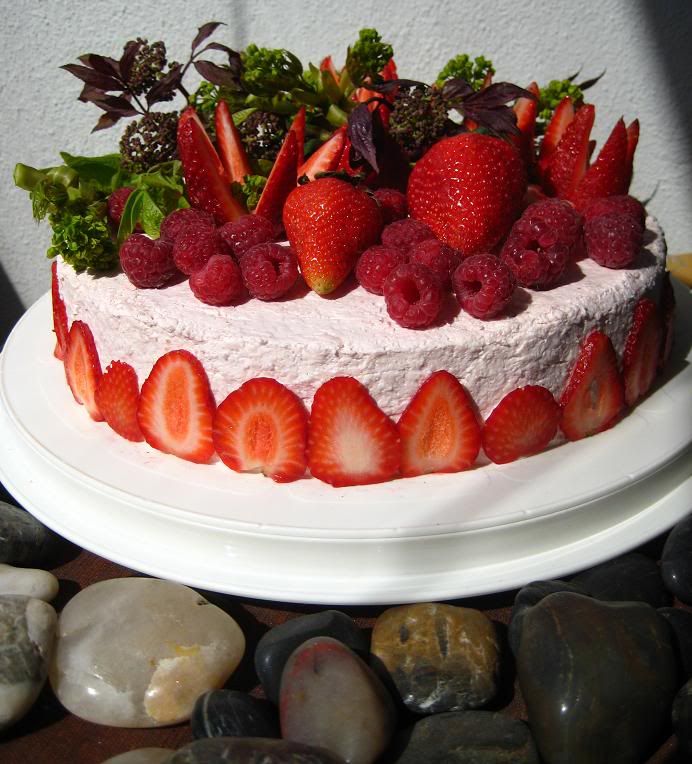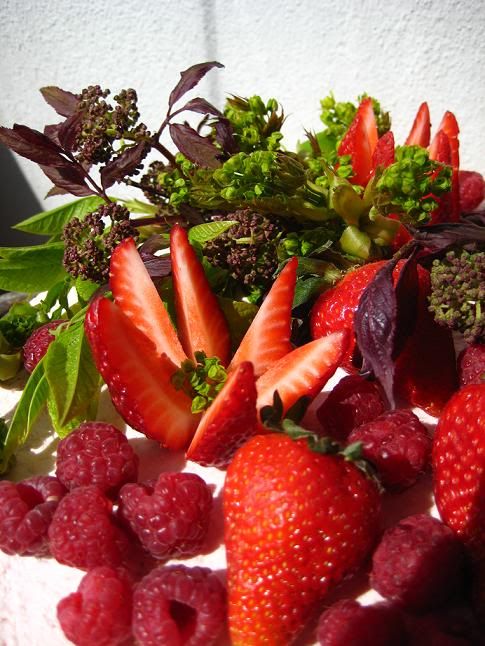 Tein myös nopean marenkikakun kaverini synttäreille ylijäämävalkuaisista. Kakku on helppo, nopea ja keveä esimerkiksi grillijuhlien jälkiruuaksi. Se kuitenkin pitää syödä melko pian kokoamisen jälkeen, mutta marengit voi tehdä jo paljon aiemmin.
Marenkikakku
- 5 kananmunanvalkuaista
- 2 1/2 dl sokeria
- hieman sitruunamehua
Vatkaa valkuaisia pari minuuttia ja sekoita joukkoon sokeri ja sitruunamehu. Jatka vatkaamista, kunnes kulhon voi kääntää huoletta ylösalaisin ja vaahto pysyy siinä. Pursota tai levitä hieman öljytylle leivinpaperille haluamasi kokoisia pohjia 2-4 kpl ja paista 100 - 125 asteisessa uunissa n. 2 tuntia. Jäähdytä pohjat.
Täytä kakku sokeroidulla kermavaahdolla sekä mansikkaviipaleilla ja vadelmilla. Pinnalle voit pursottaa esimerkiksi suklaata ja koristella sen tuoreilla mansikoilla ja vadelmilla. Itse tein kakun nopeasti, eikä siitä tullut kovin kaunista, mutta hyvältä se kuitenkin maistui.
¤¤¤¤¤
I also made a quick meringue cake for a friend's birthday from some leftover egg whites. The cake is easy, fast and light for example for after a barbeque party. However it needs to be eaten pretty fast after it's been built, but the meringues can be made a lot earlier.
Meringue cake
- 5 egg whites
- 2 1/2 dl sugar
- a bit of lemon juice
Whip the egg whites for a few minutes and add the sugar and lemon juice. Keep whipping until you can turn the bowl safely upside down without worrying about the foam falling out. Pipe or spread 2-4 flat bases on a slightly oiled baking paper and bake in 100 - 125 degrees celcius oven for about 2 hours. Cool down.
Fill the cake with some whipping cream flavoured with sugar and some strawberry slices and raspberries. On top you can pipe some chocolate and decorate with some fresh berries. I made my cake real fast so it didn't look great but it tasted good anyway.